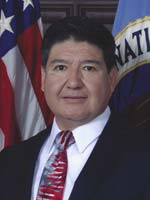 Tuesday May 1, 2018 | Time: 9:45 – 10:15
Bio:
Gilbert V. (Gil) Herrera is the Director of the Laboratory for Physical Sciences (LPS). LPS is a research institute where university and federal government personnel collaborate on research in solid state and quantum physics, materials science, advanced and emerging computing technologies, microelectronics, communication technologies, and sensors. Prior to joining LPS, Mr. Herrera served as Director of Microsystems Science and Technology at Sandia National Laboratories, a $250M, 600 person research and development center with expertise in silicon and III-V compound semiconductors, optoelectronic device and process technology, atomic physics-based devices, micro-electro- mechanical (MEMS) systems, and microsensors. Mr. Herrera is a graduate of the University of New Mexico (BS EECE) and the University of California, Berkeley (MSEE). He presently serves on advisory boards for the Jet Propulsion Laboratory, Harvard University, the University of New Mexico, and the University of Maryland. He is a former member of the Army Science Board. He was awarded the Commanders Award for Civilian Service, the Commanders Award for Public Service, and the Patriotic Civilian Service Award for this service. Mr. Herrera is a Fellow of the American Association for the Advancement of Science and a Senior Member of the IEEE.
Title: Lessons Learned from 35 Years of Delivering Trusted Components
Abstract: Today's engineering approaches are extremely effective at generating designs that are both highly efficient and virtually certain to harbor vulnerabilities. Paul Kocher will explore architectural trade-offs involving security, and how we will need to rethink traditional engineering approaches as the costs of insecurity increase. Hardware-based security approaches will play a larger role because hardware has intrinsic advantages that increase as systems scale, yet many basic questions remain unsettled such as what metrics best describe progress.